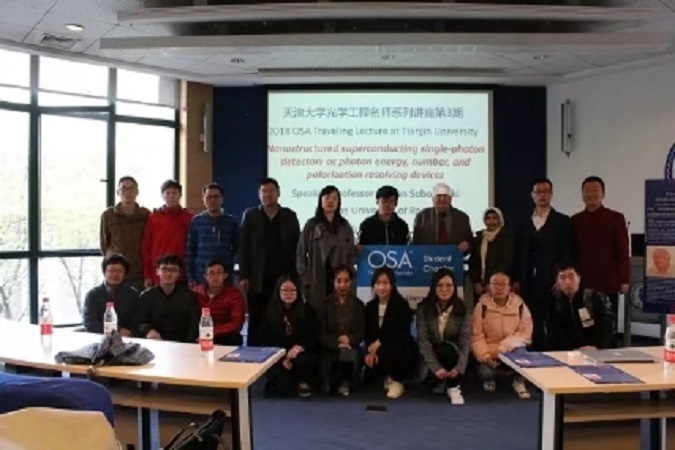 Professor Roman Sobolewski is a professor of electrical and computer engineering, physics and materials science at the University of Rochester and a senior scientist in laser energy. Professorship was awarded in Poland in 2006. He won the Spanish Government Research Prize in 2011. In 2015, he was named an outstanding researcher of the Kosciuszko Foundation. In 2016, he was a lecturer at the Applied Superconductivity Winter Society in Italy. Professor Roman Sobolewski's current interests focus on condensed matter, novel nanostructures, semiconductor and superconducting material devices, single photon quantum detection and terahertz direction. He has published nearly 400 high-level publications and has conducted more than 200 invited conferences, seminars and symposiums worldwide.
On April 10, Professor Roman Sobolewski had a five-day trip in Tianjin University.
On the morning of November 11, Professor Roman gave us an excellent report entitled Intrinsic nanostructures-semiconducting asymmetric nano-channel diodes in 602 Teaching Building 26 of Tianjin University.
After the lecture, Professor Roman and his delegation visited the Key Laboratory of the Ministry of Optoelectronics and Information Education of Tianjin University, including the Ultrafast Laser Laboratory, the Institute of Laser and Photoelectronics, the Laboratory of Photoelectric Technology , Optical Fiber Sensing, the Laboratory of Nonlinear and Optical Quantum Technology, the Terahertz Research Center and the Laboratory of Photonic Systems.
Professor Roman Sobolewski brought us the third lecture of the series of famous optical engineers at 9:30 a.m. on April 13 in Conference Room 8 of Tianjin University. The activity was successfully.
Before the beginning of the lecture, Professor Hu Xiaolong warmly welcomed Professor Roman Sobolewski and gave a brief introduction. Secondly, Mr. Hu introduced the growth of OSA & SPIE Student Branch of Tianjin University in recent years, showing some activities which were organized by the Student Branch.
With the exciting applause, Professor Roman introduced the development of OSA Optics Society firstly, and then began a report on nanostructured superconducting single-photon detectors as photon energy, number, and polarization resolving devices. In the course of the lecture, the professor went simple, the students and teachers were attracted. After nearly an hour's report, the teachers and students present raised their own questions, and Professor Roman had a positive discussion with the teachers and students.
At the end of the report, Mr. Hu presented Professor Roman with a well-prepared souvenir which had Chinese culture and Tianjin University characteristics.
Finally, Professor Roman took pictures with the teachers and students.
The lecture ended satisfactorily.